Simply the best!
Patricia went above and beyond to make sure that she brought a special touch to our event. Even with the historic Biden win and traffic in Philadelphia causing us to be late, she was there well ahead of time and playing music. I would also like to attribute her playing to me bawling my eyes out as I made it up the stairs to the altar. The music was impeccable and the guest couldn't stop marveling at the elegant touch she brought to the entire event.
I would definitely recommend her and would like to use her again.
Reviewer: Renard Golden
Event Date: November 7th, 2020
Services Provided: Harpist
Rating:

Speechless…
Patricia made our night special. My husband was flooded. It was our 26th anniversary and she made it a memorable one!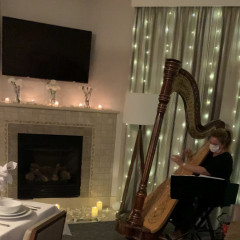 Reviewer: Johnson
Event Date: November 6th, 2020
Services Provided: Harpist
Rating :

Perfect
Hiring Patricia for our small backyard wedding put the perfect touch on a beautiful fall day. The communication was professional and prompt. She accommodated our last minute changes with grace was here in plenty of time to set. Patricia effortlessly hit all her cues and played beautifully. We are thankful that both the website and Patricia made what could have been difficult seem very easy.
Reviewer: Todd Pulley
Event Date: October 16th, 2020
Services Provided: Harpist
Rating:

Incredible performance!
Patricia did a fantastic job at our ceremony. It was the perfect soundtrack for the perfect day! She played all the songs we requested and more! Highly, highly recommend her for any event!
Reviewer: William Higgins
Event Date: October 10th, 2020
Services Provided: Harpist
Rating:

Harpist for Garden Wedding
Patricia was wonderful. She fit right in to our small garden wedding and added a beautiful ambiance for all our guests to enjoy. She even went above and beyond to find sheet music for a requested song. She was punctual, professional and in great communication. I only wish I had more time to talk with her and get to know her. A sincere thanks for making our day so special!
Reviewer: Aura Carlson
Event Date: October 3rd, 2020
Services Provided: Harpist
Rating:

Plays beautifully.
Patricia played beautifully and flawlessly for my Brothers memorial service. She played all of the songs we requested and then some. The melodic sounds of the harp was perfect for the people sitting in the funeral home room. My brother loved classic rock, and Patricia accommodated that request. We were extremely pleased we chose her- an amazing musician.
Reviewer: Deborah Cole
Event Date: June 18th, 2019
Services Provided: Harpist
Rating:

Celebration of Life Event
We received many compliments on the harp playing, it was beautiful. The program changed multiple times and Patricia was flexible and easy to work with. She was in place and set up to play early and provided us with guidance on song choice.
Reviewer: Dool
Event Date: June 12th, 2019
Services Provided: Harpist
Rating:

My husband and I hired Patty to play the harp for our wedding ceremony in July 2016. Patty was a dream to work with from start to finish. Not only is she an amazing harpist, but very reliable and was prompt to answer any questions I had. Patty's music added a very special touch and elegance to our ceremony. Our guests could not stop raving!
Reviewer: Devon K.
Event Date: August 8, 2016
Patty played ceremony music for my wedding this past weekend. I couldn't have been happier with how it sounded. So beautiful, she is truly talented. Patty was very easy to work with and she had no problem playing my unusual requests ("Can You Feel The Love Tonight", and "A Thousand Years"). I highly recommend Patty!
Reviewer: Vicky B.
Event Date: October 12, 2015
The Harpsound
Average rating:
0 reviews